We've Moved!
July 1, 2009 The nanomaterialstore has moved to a new Silicon Valley location. In a recessionary environment when most companies are laying off workers and shrinking capacity, we're almost doubling our office, lab, and production space. We expect this will allow us to better handle the R&D challenges of the coming years, delivering more nanotech solutions to wider variety of industries.



Sun Releases Gold Nanoparticles for Sale!
March 7, 2009 Sun is pleased to announce we now have nano-gold for sale. Gold nanoparticles are useful in a variety of applications, and provide excellent conductivity for electrical applications. Click on the metals tab and select Nano-Gold to learn more!


Nano-phosphors released for sale!
August 2008 Our nanomaterial phosphors glow under UV light, and can be mixed in minute amounts into a variety of materials to make them fluoresce under UV light. These Yttrium-based materials come in three compounds as follows:
Yttrium Oxide, shown below under UV light
Yttrium Vanadate
Yttrium Aluminum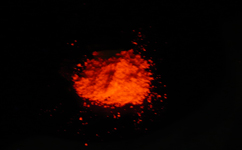 Please check our Nano-Phosphors link for further information.